In Blue Ridge you will find a plethora of great hiking trails to enjoy.  From waterfall hikes to trails affording you jaw dropping mountain views, there is truly something for everyone.  Celebrate Blue Ridge has several cabins near hiking trails that allow you literally to walk out your front door and get on a world class hiking trail within minutes. We also know that our furry friends love hitting the trails too and we have pet friendly cabin rentals close to these same trails!
One of our favorite trails in the area is the Benton MacKaye Trail (BMT) Section 8 that runs from Bushyhead Gap to Dyer Gap through the Chattahooche National Forest.  Named for the architect of the world famous Appalachian Trail that begins north of Amicalola Falls at Springer Mountain, The Benton MacKaye Trail also begins at Springer Mountain and winds its' way through some of the most beautiful forested mountains in the Southeast, running to its terminus in the Smoky Mountains of Tennessee. 80 miles of the total 280 miles of the BMT run through Georgia.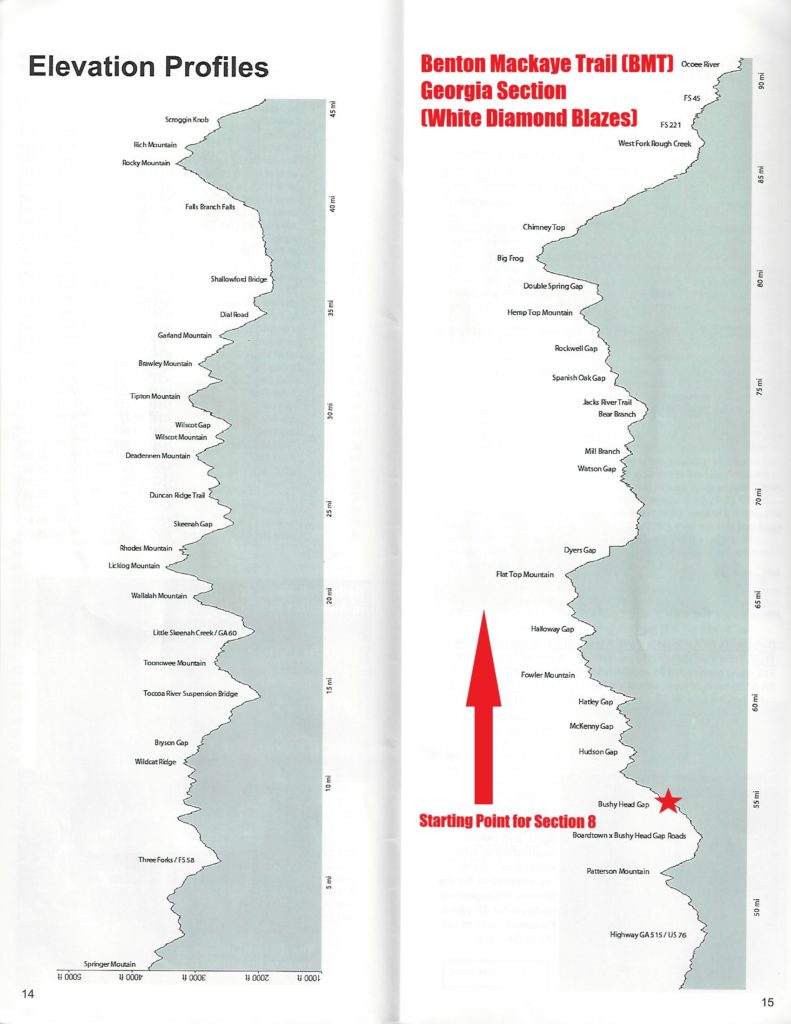 Here you can see the Elevation profile for the entire BMT in Georgia.  Note Bushyhead Gap (red star) and you will see that Section 8 to Dyer Gap gains more than 1700 feet from Bushyhead Gap to Flat Top Mountain before dropping about 700 feet down to Dyer Gap.
The BMT is blazed in white diamonds and offers a much less travelled option for those looking for hikes in solitude.  Perhaps the best exmaple of this is in Section 8.  Starting at Bushyhead Gap about 8 miles from downtown Blue Ridge, Section 8 runs 12.8 miles through the most remote area of the Chattahooche National Forest up to the edge Cohutta Wildlife Management and Wilderness Areas.  For most of our guests who are not going overnight backpacking this will be hiked as an out and back trail.
This hike is full of hardwood trees and seasonal views.  The BMT Section 8 is generally lightly travelled and runs through some of the most remote forest land in Georgia – What a wonderful combo!
Directions to trail head (Bushyhead Gap) from Blue Ridge –  
(From Burger King@ Hwy 76) – South on US-76 6.2 Miles to Lucius Road.
Right on Lucius Road 2.8 Miles to Boardtown Road.
Right on Boardtown Road 4/10 Mile to Bushyhead Road.
Left on Bushyhead Road 1.6 miles to top of large hill.  Park on Bushyhead or Forest Service Road 798