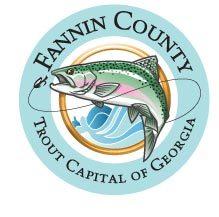 Fannin County is home to 13 bodies of water that have been designated by the Georgia DNR as trout waters – over 550 miles of pristine streams, including The Toccoa River's diverse tailwater, which can be fished all year.  Fannin County is also home to the federal trout hatchery in the Chattahoochee National Forest.  
The Blue Ridge area is known as one of the top five places to fish for trout in the southeastern U.S., according to Trout Unltd.  
Make time to visit the Chattahoochee Forest National Fish Hatchery nestled deep in the heart of the North Georgia mountains.  Surrounded by the 749,444 acre Chattahoochee National Forest, the hatchery occupies a 44.8 acre tract of land straddling Mill Creek and Rock Creek, which are tributaries of the Toccoa River.
The hatchery produces about one million rainbow trout each year. These fish are stocked into tailwaters, streams and lakes of Northern Georgia in cooperation with the Georgia Department of Natural Resources, Corps of Engineers, Tennessee Valley Authority, and the U.S. Forest Service.
Learn more about how the U.S. Fish and Wildlife Service propagates fish.
Fly Fishing Options Galore!
Any of our three cabins with Fightingtown creek frontage. Our guests have caught fish here and seen trout as big as 18 inches in the deeper holes.  No license required. See links below to book!
Public access areas below the dam (upper Toccoa and Ocoee) – see attachments to your right.
Public Fishing above the dam (Wild Toccoa)
Private resorts like Noontootla Creek Farms or Soaring Eagle Outfitters. These areas are stocked with fish and guides are available as well.
For Options 2-4 you need a license and trout stamp. They are available online on GA DNR site or at WalMart in Blue Ridge
Links to these great maps from the Fannin Chamber of Commerce here:
Water Trails North (below dam)11WaterToccoaN-2020
Water Trails South (above dam)10WaterTrailsToccoaS-2020
Fly Fishing Guide Services
Hiring a guide for your trip can be the best decision you make around fly fishing in Blue Ridge.  Doing so ensures a much greater chance of a successful and satisfying outing, especially for novices.  Guides give you the benefit of their expertise around where to find fish and best technique and generally provide all the gear you will need as well.
Celebrate Blue Ridge's Favorite Guide Service is
Toccoa River Outfitters
https://flyfishingblueridge.com/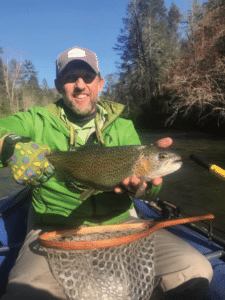 We highly recommend Andrew at Toccoa River Outfitters.  Our guests have reported high satisfaction with Andrew and his service.
Book your Blue Ridge getaway now!
There is nothing quite like being able to fish right out the back door of your riverfront cabin in north georgia. Celebrate Blue Ridge has an amazing selection of north georgia vacation rentals to choose from! May of our waterfront cabin rentals are pet friendly too!